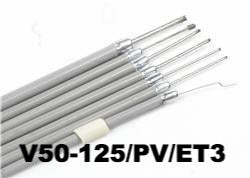 Vespa cable kit Small frame - Premium cable kit - 94190100
---
Vespa small frame cable Kit, PREMIUM - 94190100
2xgear, 1xclutch, 2xthrottle, 2xchoke, 1xbrake front, w/o PFTE: 1xbrake rear (with eye) 
These are premium bowden cables. Similar PTFE-cables are used by General Motors and Mercedes in their sliding sun roofs. The cables are made of polysil, polyethelene and silicon oil components. The technical term is PTFE. The word "teflon" cannot be used, being a registered name from Dupont:
Fits: Vespa 50-125/PV/ET3
The small frame set kit includes 2 choke cables and 2 gas cables to cover more variations.
---
Share this Product
---
More from this collection